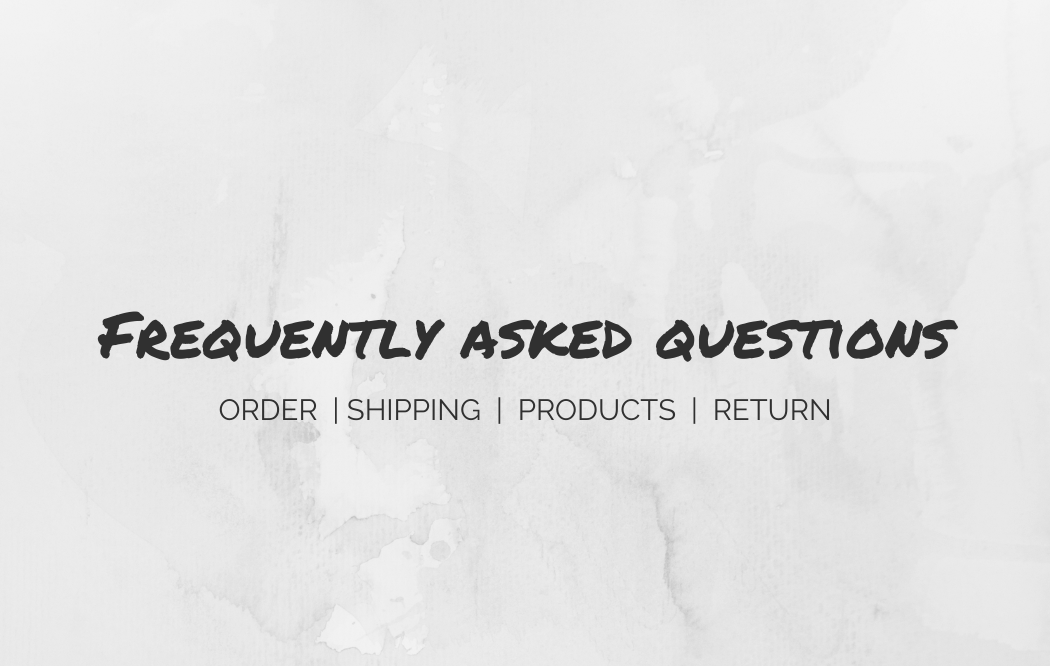 About Order
In general, orders typically process within 12-24 hours (except weekends and holidays), and transit time is typically 2-10 business days.
In rare some cases, if you have not received the products for more than 10 days. Please contact us at contact cs@smafan.com and we will be happy to resolve the issue immediately.
We will send you an order confirmation email once your order is verified. After verification, the order will not be able to cancel during this period due to the handling process already starting. If you need your order cancelled, please contact us immediately and we will try our best before the item ships out.
Please login to your account and click on your order details to view the tracking number for your order.
PAYMENT
Our checkout page accepts Visa, MasterCard, Discover, American Express, and PayPal as forms of payment.
Lucky you! To use your discount code:
1. Copy the discount code from the product page.
2. Add all of your glam goodies to your shopping cart and begin the checkout process.
3. There will be a box field in the checkout process to enter your code, then just click "apply" to apply the discount code at check out.
Please note that order discount codes cannot be combined with other discounts. Only one code can be applied per order. Discount codes cannot be used for orders already placed.
1) Product discount codes can be combined. (Note:If an item is eligible for multiple discounts, only the largest discount will apply.)
2) Order discount codes cannot be combined with other discounts. Only one code can be applied per order.
1. The discount code is not applicable to the specific items you want to buy
2. The discount code wasn't entered correctly
3. The discount code has expired
4. The discount code is not from Smafan's official website
If you have any questions, please feel free to reach out to our customer service team.
RETURN & REFUNDS
You must report any damaged or missing items within 3 business days of receipt by contacting us at contact cs@smafan.com. You also must keep the original box & packing material in the event the shipping carrier requires an investigation or if we require you to ship the original item back. In some cases, we may need a customer's help to confirm why this is happening. We appreciate your cooperation and patience through this process.
Please refer to our returns policy to see if the item is eligible for a return. If eligible, please contact us through Email or give us a call for authorization. An RMA number is required from us for all approved returns.  We will not accept any returns without an RMA number.
The general return policy applies to all products except special products and clearance items.
We have a 90-day return, exchange, and refund policy.
What items are returnable? (Items must meet all of these requirements):
If your order has a problem, please contact us by email or through the contact page. DO NOT ship back products without an RMA authorization through the return process. We can resolve all issues with you quickly and with personal attention if you contact us directly.
An RMA number is required from us for all approved returns.  We will not accept any returns without an RMA number.
Items received which are incorrect or defective products are also returnable with RMA authorization:
Received defective product?
Received the wrong product?
Received a product not as described?
We will replace it!
Customer is responsible for all associated shipping costs unless products are defective or wrong.
Our refund policy is only applicable to successful returns. When completing the physical or online Return/Exchange Form, you may choose to be refunded via your original payment method.
Once we have processed your refund, you will receive a confirmation email from us. If you have opted for a refund via the original payment method, please allow up to 7 business days for your account to be credited. If you do not receive your refund after 7 days, please contact your payment processor directly for further information.
SHIPPING
All orders are processed within 1-2 business days. Orders are not shipped or delivered on weekends or holidays.
If we are experiencing a high volume of orders, shipments may be delayed by a few days. Please allow an additional day in transit for delivery. If there will be a significant delay in shipment of your order, we will contact you via email or telephone to notify you.
Order processing will typically take 12-24 hours to process (except weekends and holidays). Normally, we will ship the item out within 1-2 working days, and the transportation time will be 2-6 days. Please also allow up to 12-24 hours for your tracking details to update from the shipping carrier. Payments will usually be received within 10 minutes, but may require more time if there is a hold in place for security purposes.
Please also review the product page for the products you have ordered, which will indicate the inventory availability status of the product. Products that are out of stock will be shipped automatically once we receive additional inventory.
We are committed to provide you the best shipping options, no matter where you live. Every day, we deliver to hundreds of customers across the world, meanwhile ensuring that we provide the very highest levels of responsiveness to you at all times.
You will receive a Shipment Confirmation E-mail containing the tracking numbers once your order has shipped. The tracking number should be active within 24 hours through the shipping carrier.
HOW CAN WE HELP YOU
Ranging from 36'' to 48'' to perfectly fit 75-144 SQFT small room, 50'' to 52'' to perfectly complement the space of 145-300 SQFT medium room, 56'' to 60'' perfect for 300 and up SQFT large room.
Smart ceiling fan works with Amazon Alexa, Google Assistant, Siri Shortcuts and Carro Home App, which help you easily adjust the fan speed, light on/off/dim, reverse fan direction and set a timer&schedule, control your wifi ceiling fan with simple voice command like: "Hey Alexa, turn on my bedroom ceiling fan".
Flush Mount ceiling fan - typically used for ceilings around 8' high. The fan mounts directly to a mounting bracket attached to the ceiling structure without the use of a downrod. As a result, the ceiling fan blades hang closer to the ceiling.
Downrod ceiling fan - hang a ceiling fan using a downrod attachment. A 6" downrod is included with your fan. You can purchase longer downrods separately for use with higher ceilings.
1. They differ obviously in fan speeds. AC fans can only reach up to 3 speeds while DC fans are able to reach 10 speeds.
2. DC ceiling fans consume much less energy and are normally 75% energy-efficient than AC fans.
3. DC fans do not require maintenance and part replacement as often as AC fans, so DC fans have obviously less using and replacement costs.
This smart ceiling fan is quite easy to install. A screwdriver and step ladder is ok.
1.Disconnect the power for 10 minutes, reconnect the power and pair the remote with the fan immediately, within 5 seconds. Also try pairing the correct APP "Carro Home" to reconnect.
2.The WiFi must be 2.4Ghz, after connection, either wifi 2.4Ghz or 5Ghz works.
Vist articles to learn more methods:
The AC motor fans have 5 wires required for installation, DC motor fans only require 3 wires for installation.
AC motor fans require neutral wires and separate load wires for Fan & Light, please confirm that the wiring in your home is compatible before purchasing.
Sure. You can add multiple ceiling fans to Smart App and create a group for unified operation. Also, you can control them individually.
The timer built in smart App can be set from 1-8 h at o'clock sharp.
Besides, schedule also able to be used for timer is able to be set at any time.
Most of our WiFi ceiling fans are with high damp rating, usable for indoor and outdoor places but covered like patios and porches. Just keep the motor away from direct raindrops and water.
Surely. Smart APP will have you operate the fan and light from anywhere. Also, the function of schedule built in the APP will carry out auto-on at scheduled time.
Yes, you can only light up the light or turn on the fan separetely by the remote control or the app.
The Smafan Smart Wall Switch is only suitable for AC ceiling fans.
Neutral wiring is required to successfully install the Smafan Smart Wall Switch.
Make sure your router is set to the 2.4Ghz frequency ONLY during setup (Not 5Ghz). After setup is completed, you can switch back to the 5Ghz frequency.
The Smafan Smart Wall Switch is not compatible with fans that feature a built-in remote-control system.
The Smafan Smart Wall Switch is designed for single-pole use only (a three-way setup is not possible).
The Smafan Smart Wall Switch is compatible with a maximum fan load of 1.5A, a maximum light load of 2.5A, and a maximum power of 400W per gang.