CEILING FAN PARTS & ACCESSORIES
Power adaptors, LED light kits, remote controls, and more.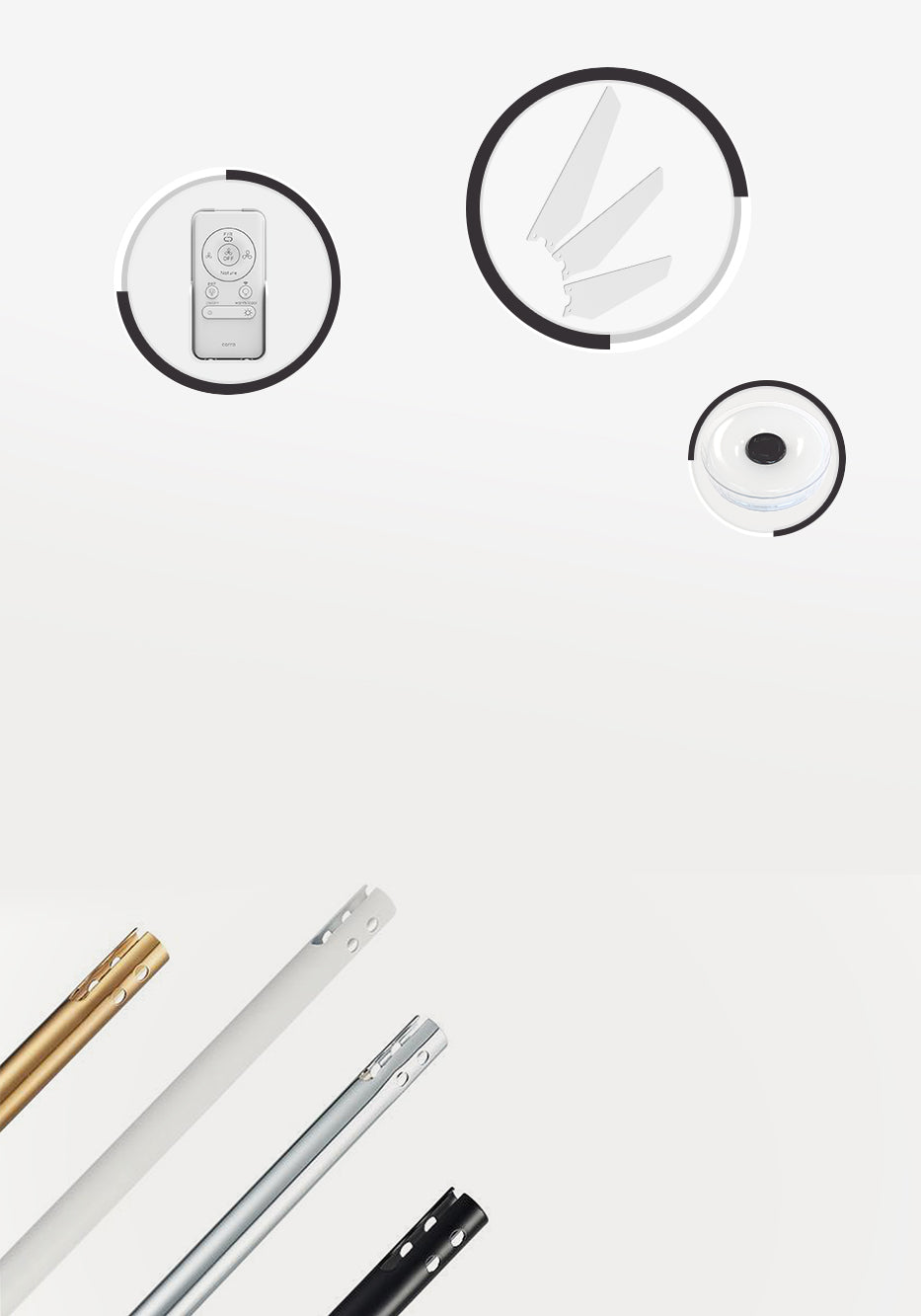 CEILING FAN PARTS & ACCESSORIES
At Smafan, we have the best ceiling fan for any interior! Whether it's modern, farmhouse, industrial, or traditional home décor, we offer elegant designs and modern technology to add brightness, style, and comfort to your home. Part of this comfort is having the proper ceiling fan parts and accessories to keep your smart fan with lights running smoothly. We've got you covered with premium wall switches, hand-held remote controls, fan downrods, LED light kits, and light covers for optimal performance at all times.
Advanced Control Options
Experience the convenience of Smafan's advanced control options! Our Smafan Carro ceiling fans can be controlled via a wall switch, handheld remote, or existing smart home devices like smart speakers and smartphones.
1. Smart Wall Switch
Do you want to transform your traditional AC ceiling fan with light into a smart fan? With our Smafan Carro wall switches, you can enjoy advanced smart features and smart home automation from one convenient and cost-effective device. Our wall switch features a pristine white and modern exterior, single or multiple-gang configurations, and smart device compatibility for flexible control of your home's cooling and lighting.
2. Hand-Held Remote
Say goodbye to outdated pull chains and shop Smafan Carro's wireless hand-held remote controls that let you adjust the fan speed, forward/reverse function, light color, and light brightness from anywhere in the room. *Remote controls cannot be used for ceiling fans with dimmable light switches.
Installation Accessories
AC/DC Ceiling Fan Downrod
Ceiling fan downrods link the motor housing to the mounting hardware to help stabilize the ceiling fan, decrease the risk of wobbling, and position the fan in the right place for optimal air circulation. Smafan Carro's extended downrods come in several lengths, ranging from 14 to 46 inches, so you can select the best one for your space needs. For assistance selecting the right downrod size, please read our How to Choose a Ceiling Fan post!
LED Light Kit
The perfect light tone and brightness have the power to transform a gloomy space into a magical environment. To achieve this magic, shop our LED light kits that offer a 50,000+ hour lifespan, adjustable light tones, dimmable brightness, and increased energy efficiency.
Light Covers
Shop our Smafan Carro replacement light covers, available for our most popular ceiling fan collections, to protect your light kit assembly and enjoy comfortable lighting.
Blades
Keep your indoor and outdoor ceiling fans in tip-top shape using our replacement blades. Our blades are available in many finishes, such as light wood, matte white, and dark wood, to perfectly match your ceiling fan design.
Other Accessories
Smafan Carro has everything you need for a safe and seamless ceiling fan installation. Shop our premium installation accessories, including mounting brackets and ceiling fan PCBs.